Hickory Veterinary Hospital is an AAHA accredited hospital that serves over 7,000 companion animal patients annually. Our board-certified specialists offer a broad range of diagnostic and treatment options in the fields of surgery, critical care, ophthalmology, neurology, cardiology, rehabilitation and radiology. We offer our patient general practice needs as well.
We are continuously looking for a team of friendly and compassionate professionals to contribute to our continued goal. Our mission is to provide the local community state of the art veterinary care while maintaining a close relationship between doctors, staff and patients. At Hickory, we aim to build lasting relationships with patients, provide emergency services in time of need and offer specialty services to the local community and referring veterinarians. We chose to place patient care and communication first and treat every pet as if they are part of our Hickory family, and hope to continue growing with the support of our community.
Our Mission:
To be the most advanced veterinary care facility in the Montgomery County area and to support our patients, clients, referring veterinarians with the delivery of advanced diagnostic and medical care.
Our Core Values:
Professional Excellence
We are committed to providing innovative and caring solutions across a broad spectrum of veterinary medical challenges, the result of which will be to allow pets to live longer, healthier lives.
Teamwork
Our medical team works in a collaborative environment with pet owners and referring veterinarians to outline the best scenario of care for our patients.
Integrity
We empower every client, allowing them to make their own decisions about their pets' treatment. We will offer continuous support from day one and we will always support the decisions our patients make.
Compassion
Clients and patients are valued as family members.
Service
We want to ensure that our patients and our pet parents are able to achieve optimal wellness through quality health care options, resources, and financial alternatives.
Equal Opportunity
Hickory Veterinary Hospital is an Equal Opportunity Employer. We do not discriminate on the basis of race, religion, national origin, color, sex, age, veteran status or disability. It is our intention that all qualified applications be given equal opportunity and that selection decisions are based on job-related factors.
Positions
Outpatient Technician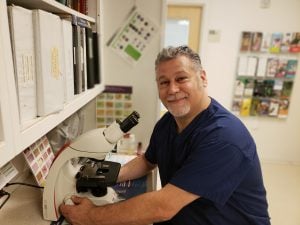 Perform variety of animal health care duties to assist our primary care veterinarians.
Some of the outpatient technician's responsibilities include:
Greet Clients and set up doctor appointments.
Take patient history and triage
Administer injections
Perform venipuncture
Apply wound dressings
Hold or restrain patients during examination, treatment, or inoculation
Prepare patient, medications, and equipment
Perform diagnostic laboratory tests
Review vaccine history, heartworm and flea preventative
ICU/ER Technician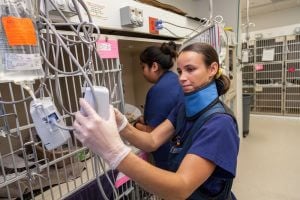 Perform variety of animal health care duties to assist our ICU/emergency veterinarians.
Some of the ICU/ER technician's responsibilities include:
Provide emergency/critical care procedure with the emergency doctor
Provide nursing care for hospitalized patients
Run laboratory and diagnostic tests
Monitor equipment used for hospitalized patients
Assist with physical examinations
Contact clients for follow up on treated patients
Update clients on patient' conditions
Surgical Technician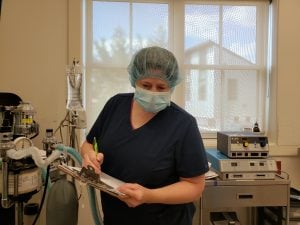 Perform variety of animal health care duties to assist our surgeons
Some of the surgical technician's responsibilities include:
Assist in preparations for surgical procedures (soft tissue, orthopedic, emergency and elective)
Monitor patients under anesthesia
Run laboratory and diagnostic tests
Postoperative care of patients
Equipment care for surgery
Discharge patients
Dental Care
Pharmacy Technician Assistant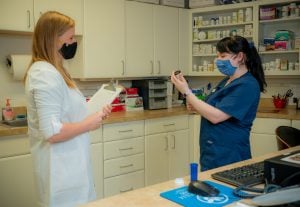 Hickory Veterinary Hospital has a fully functioning in-house pharmacy, staffed 7 days a week from 7am to 9pm.
Some of the pharmacy technician assistant's responsibilities include:
Keeping track of inventory throughout the hospital
Assist staff with day to day flow by filling medications
Client communication and proper medical record keeping
We are looking for someone who is friendly, hardworking and willing to learn. Veterinary medication knowledge is a plus. Experience and comfort with client communication is preferred.
Veterinarian
We are seeking like-minded specialty, emergency and general practice doctors to help us grow our family-owned practice! Please contact us directly at [email protected] to learn more about our veterinarian career opportunities.
Groomer
Seeking an experienced certified pet groomer for dog and cat clients. We offer a dedicated client base and a friendly work environment.
Some of the groomer's responsibilities include:
Must be motivated, able to work independently, knowledgeable of breed standard grooms, and a great communicator with pet owners.
Our candidate should be able to manage their time well while producing a quality product.
The ability to lift, squat, or stand for periods of time is a must.
Must be knowledgeable of all animal temperaments and how to safely handle fractious patients.
Apply Now