Mission Statement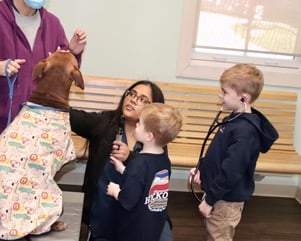 Our mission is to continue as a family owned business providing the local community state of the art veterinary care while maintaining a close relationship between doctors, staff and patients. At Hickory, we aim to build lasting relationships with patients, provide emergency services in time of need and offer specialty services to the local community and referring veterinarians. We choose to place patient care and communication first and treat every pet as if they are part of our Hickory family, and hope to continue growing with the support of our community.
Philosophy
Hickory Veterinary Hospital was founded in 1956 as a team of professionals committed to excellence in animal care.
We are sensitive to the care and concern that each client brings to our hospital for his or her pet. We serve the needs of our clients and their pets with a competent staff, excellent equipment, 24-hour staffing, and continuous accessibility to our facility.
Communications among staff members and clients is important and vital to our ability to provide consistent care, and emphasizes our team approach to the practice of excellent veterinary medicine. Our staff meets regularly to discuss and implement new treatments, ideas, and procedures.
Our veterinarians and support personnel provide preventive health care and treatment of disease problems to our broad-based clientele.
Our specialists are ready to provide consultations and treatments for pets with more advanced and complex diseases. All services are available to our clientele as well as to all patients referred to us by our clients and veterinary associates.
With ever increasing changes in veterinary medicine, our goal is to assist our clients with all the advantages of a full service veterinary facility.
History
William J. Brown, VMD, a graduate of Penn Wharton and a 1942 graduate of the University of Pennsylvania's School of Veterinary Medicine, began his career in Mt. Airy, a northwestern part of the city of Philadelphia. His practice grew in stature in that area and was expanded to a second location in Plymouth Meeting, PA in 1956. He later sold the veterinary practice in Mt. Airy and relocated solely to the suburbs bringing about Hickory Veterinary Hospital. He raised his family at 2303 Hickory Road in the home where his parents raised him. He began the foundation of the loyal and devoted clientele Hickory still boasts of today.
Nancy O. Brown, William J. Brown's middle daughter, received her bachelors degree from Gettysburg College and a master's degree from University of Southern California. She then decided to pursue a veterinary degree following in her father's footsteps, graduating from the University of Pennsylvania School of Veterinary Medicine in 1973. She furthered her veterinary career at Animal Medical Center in NYC doing her internship and then surgical residency.
Nancy Brown, VMD DACVS, DACVIM – Oncology, not only was one of the nation's first female veterinary surgeons, but she also was a founding fellow of the surgical oncology board in 2013, making her both boarded in surgery and oncology.
Dr. Nancy Brown purchased the practice in 1983 from her father, and that same year the specialty practice was established. Her family spent years living in the same house that she herself had grown up in. She grew the practice from a small one doctor establishment to a specialty, 24 hour emergency and general practice hospital well known throughout the area with many state of the art additions and medicine upheld.
Dr. Nancy Brown's only son, William J. Kay Jr., also followed in his family's footsteps. He graduated in 2008 from University of St. Andrews in Scotland, and then went on to be a third generation graduate from the University of Pennsylvania School of Veterinary Medicine in 2014 where both of his parents, as veterinarians, presented him with his diploma. He went on to pursue a residency in neurology and neurosurgery at Mississippi State University in 2015.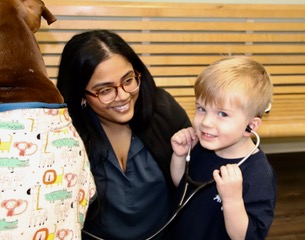 In February 2020 William J. Kay Jr., VMD, DACVIM (Neurology) and his wife, Tiffany Kay, VMD purchased the hospital from William's mother, Dr. Nancy Brown. We are proud to say that Hickory Veterinary and Specialty Hospital has been a family owned practice for now over 75 years and continues to offer a high standard of care and overwhelming compassion for its clients and patients.