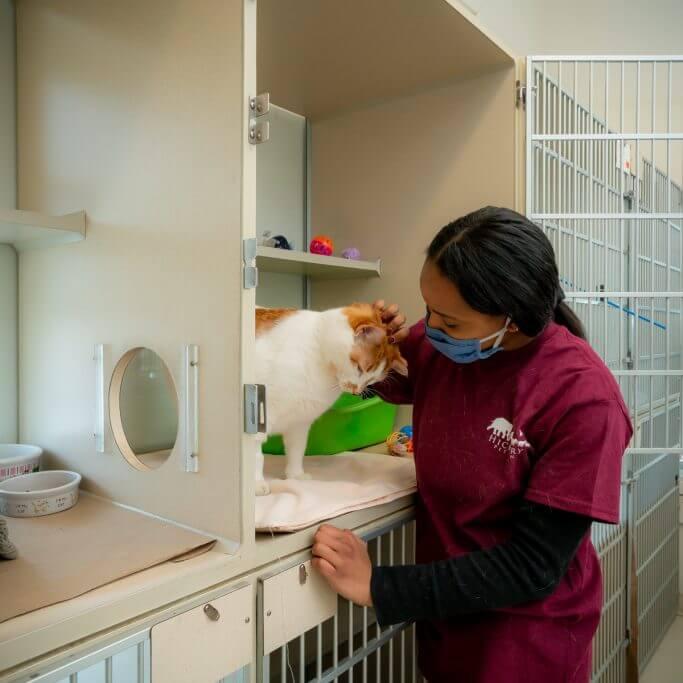 Let Hickory Pet Inn be your best friend's Home Away From Home while you are away. As a caring group of professionals with our own furry friends we know that your pets are family. Let us care for them as if they were our own; with love, compassion and lots of snuggles.
As a guest at our facility, your furry feline will have the opportunity to "stretch their legs daily" and watch the birds fly by, all day, with their window view in our spacious cattery. Our cat accommodations are separated from dog areas, with sound proofed walls, to provide a quiet, peaceful space to nap and relax. As an additional perk, you have the option to add a treat puzzle toy for your cat to enjoy.
We know that it is hard to leave your pet but rest assured, Hickory Pet Inn is right in the "backyard" of our sister hospital! Should any medical concern arise, we have a competent, compassionate veterinary team to attend to their needs.
What are the drop-off and pick-up times?
You can drop-off your cat any time during regular business. You are welcome to pick-up your cat at any time during regular business hours. Please be aware that if you pick-up after 12:00pm, you will be charged an additional half-day rate.
What is required for my cat to board overnight?
As a precautionary and safety measure, we require our feline guests to be current on the following vaccines:
How do I reserve my cat's overnight boarding stay?
If you are a first time client, please fill out both of the following forms:
If you are a returning client and already have an Agreement on file with us, please only fill out the following:
Please be aware that filling out a Boarding Request does not guarantee a reservation. Once your forms have been received by our team, we will reach out by phone or email to confirm the dates of your reservation.