Medical Lodging
All Medical Lodging pets stay in an area devoted to the additional care they need and are monitored 24/7 by our staff and veterinarians. We strive to give your pet love and attention in a safe, supportive environment where there's always a doctor and supportive staff on duty.
Each day a doctor will review your pet's treatments and assure that their experience here will be a warm and loving experience. Play and exercise programs are tailored to each pets special needs.
Our Facility
Our state of the art climate controlled facility is equipped with an outdoor exercise area.
Special Diets
If your pet is on a special diet, our staff will ensure that they continue to receive their proper dietary regimen.
Basic Grooming and Bathing
We have a grooming facility onsite so that your pet can be pampered before going home. Please notify our receptionists if you would like your pet to be scheduled for a bath and/or basic grooming. Our grooming facility offers: medicated baths, pedicures and ear cleaning.
Exotic Pets
Separate from our canine and feline facilities, we offer a tranquil atmosphere for our exotics. We offer boarding to ferrets, rabbits, guinea pigs, rats, hamsters, chinchillas and various birds.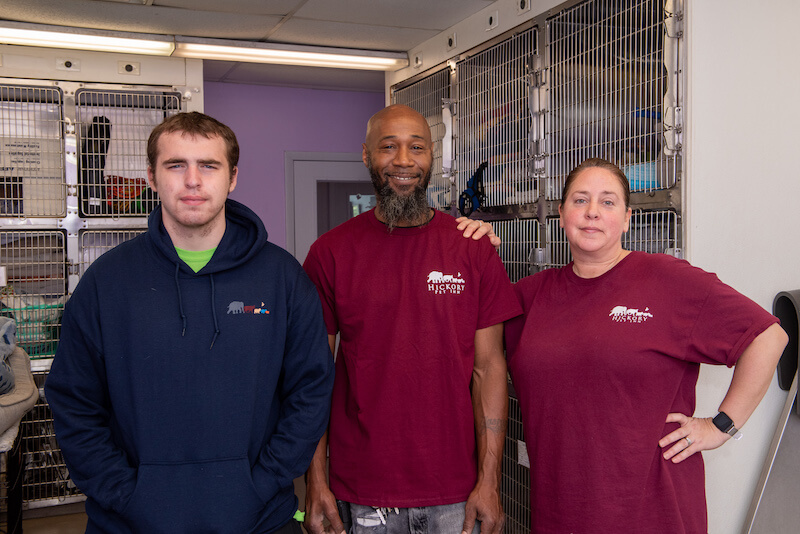 Our caring team at Hickory Veterinary and Specialty Hospital recognizes that some pets require extra time, love and support because of their health issues. We specialize in this area. Hickory Veterinary Hospital is equipped and ready to care for your pet, when you are not able to.
Staffed 24 hours, seven days a week our experienced professionals offer exceptional boarding accommodations for canines, felines and exotics. Each pet's stay is tailored to fit their individual health needs.
Our Medical Lodging offers care for pets with, but not limited to:
• Addison's Disease
• Anxiety
• Blindness and/or Deafness
• Cushing's disease
• Diabetes
• Cardiac Disease
• Chronic illness- asthma, kidney failure
• Incontinence
• Megaesophagus
• Mobility assistance- arthritis, paralysis
• Multiple medications
• Chronic Intestinal Disease
• Post-operative care
• Respiratory Disease
• Seizures Disorders
• Senior Pets
• Unique dietary requirements
• FLUTD
Click here to complete our Medical Boarding Form online!