Have an emergency? Come straight to the hospital.
We are open for emergencies 24 hours a day 7 days a week, 365 days a year.
If possible, call us before arriving: (610) 828-3054 so that we can be better prepared to treat your pet.
Address: 
2303 Hickory Road
Plymouth Meeting, PA 19462
Click for Map & Directions
Hickory Veterinary and Specialty Hospital has a team of dedicated and skilled staff available 365 days a year. No appointment is necessary and patients are seen on a triage system, which simply means a veterinary nurse will come up to assess your pet. We will work with you and your veterinarian to provide the best care for your loved one.
WHAT TO EXPECT IN CASE OF EMERGENCY
GETTING YOUR PET TO OUR HOSPITAL
Have an emergency? Give the hospital a call to let us know your coming in. Calling can give us a chance to be better prepared for your visit. There are options for you to get your pet here.
Is your dog unable to stand? If your dog is on the heavy side and is not able to stand, we recommend rolling them onto a strong blanket. This is a two to three person job but the blanket is an easy way to carry your pet to the car. We have staff and gurneys to assist you and your pet when you get here. Just let us know so we can be better prepared.
Is your dog in pain? If your dog is in pain and on the medium/smaller size, transport him/her in a sturdy box, carrier or even large plastic container cushioned with blankets. This can keep them from rolling around or moving too much until we can see them. Avoid placing a lid on a large container/bin or be sure to punch holes on the lid before using it to ensure your pet can breathe
Are you unable to get your cat in the carrier? If you are unable to get your cat to go in their carrier, use of a laundry basket (with a lid) or large container will help. Make sure that there are always holes for your cat to breathe. We require that all cats in our hospital be in a carrier to make transport from the car to the hospital and to the treatment area safer, easier and less stressful for your cat.
Does your cat hate the carrier? Get prepared ahead of time in case an emergency arises. Find what your cat does prefer to go in and use that. Many cats prefer larger spaces for travel such as a large box or a larger carrier. We also recommend spending some time showing your cat that the carrier is not such a bad thing. Use treats and leave it out for them to explore.
How does triage for emergencies work? 
When arriving at our hospital with an emergency, a triage will be called, which means the veterinary nurse will come quickly assess your pet to interpret how emergent the situation is. They will likely look at your pets mouth to check their gum color and ask you a variety of questions to gain some more information. We, of course, prefer that your pet stay with you during the wait to see a doctor but the technician may ask you to take your pet into treatment in order to get a better understanding of what is going on. The technician will update you as emergencies are being addressed by the veterinarians. Long waits may happen but we assure you we will do our best to communicate with you during this very stressful time.
How can diagnostics help my pet?
As we all know, our pets cannot tell us what is wrong. Diagnostics or testing may be necessary once your pet has been examined by the emergency veterinarian. Our doctors have access to a variety of diagnostic imaging tools to allow immediate results in an emergent situation. In the case that your pet may need further diagnostics, we have a talented staff on site to do a further workup.
Blood tests are our way of seeing a bigger picture of what the problem may be. We have a variety of blood tests available to run on-site with immediate results to bring us closer to finding the answers, including but not limited to, complete blood count, chemistry, and blood gas analysis.
Radiographs (X-Rays) allow us to see injury or disease within the body. It is useful for diagnosing fractures, foreign body ingestion, pneumonia and other generalized medical problems. Additional diagnostics may include advanced services such as ultrasound, endoscopy, CT scans and MRIs.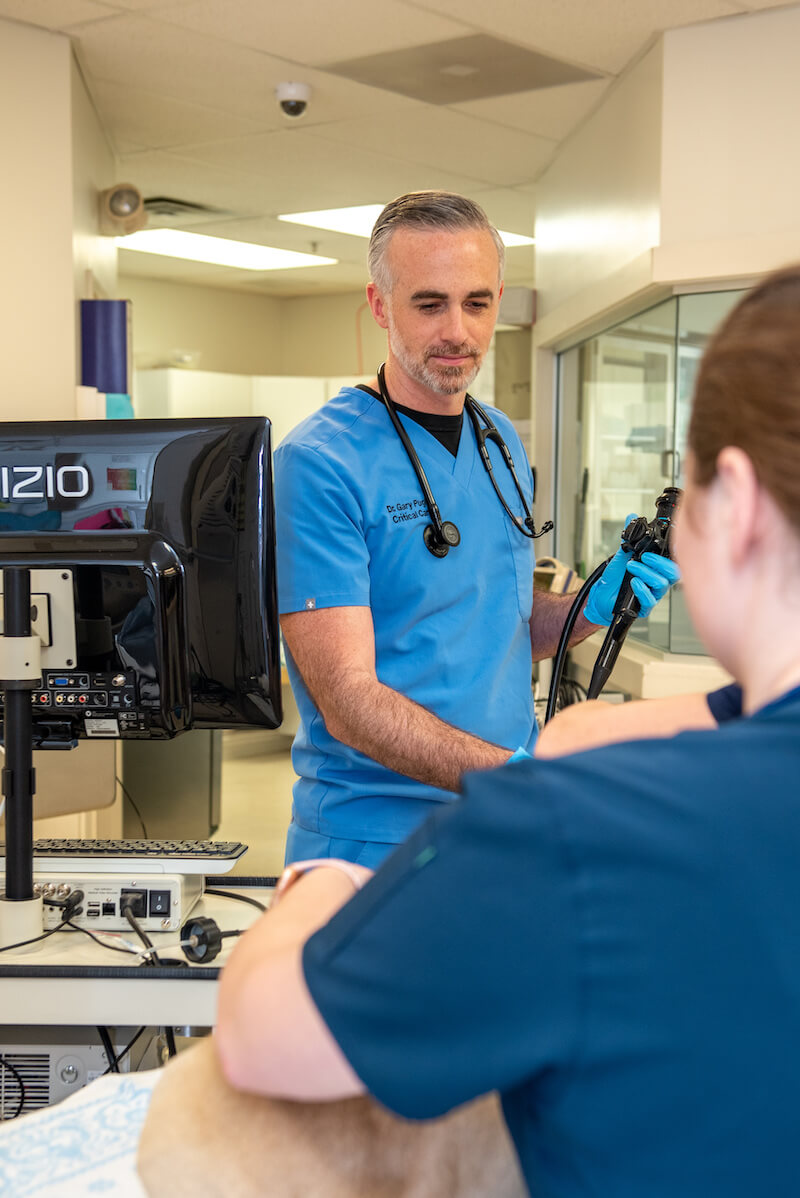 OXYGEN THERAPY
For our patients with respiratory problems we have a fully functioning oxygen cage. These cages allow all of the necessary oxygen therapy to be enclosed into the cage so that your pet may receive their oxygen fully. Unlike humans, animals prefer not to have masks over their face so this is a less stressful, safe way to provide your pet with the supplementation they need. There are times, during visits, when we will ask you not to open the cage door as that lets the oxygen out, but if a visit is necessary, we have a few options we can provide you with based on the state of your pet.
What should I expect during my pet's emergency stay? 
In the event your pet has to stay with us to get better, our skilled nursing staff is there to keep a close eye on your pet and their needs. They will receive fluid therapy when necessary and will be continually monitored day and night. Our nurses do treatments every few hours but are present in the room throughout your pets stay to attend to their needs. Treatments are important when assessing and treating our patients. They include recording vitals, husbandry care (monitoring food/water intake and elimination), following treatment plan such as blood work, oxygen assessment, and administering medications under instruction of the veterinarian. If a concern arises with your pet our technicians are able to find a doctor for further assessment and possibly a change in treatment.
We will work diligently to communicate with you, giving you daily updates. 
Emergencies are very stressful and upsetting. We strive to keep the situation as controlled, organized and open with communication as possible. We aim to provide a service personal to each individual need. Patience and understanding is hard to acquire during difficult times that are not planned. We take pride in our skilled team to provide these services for you the best we can.