What is Critical Care?
While an emergency is developing, or throughout recovery from a serious illness or accident, ongoing diagnostic and therapeutic care may be required. Close monitoring and life support measures could be delivered in an Intensive or Critical Care Unit (ICU/CCU), these units are equipped to provide oxygen therapy, cardiac monitoring, blood transfusions, and nutritional support. A dedicated team led by a veterinarian who is specialty trained in emergency and critical care will improve the quality of care your pet receives during the traumatic and crucial time to improve his or her chances of a good outcome.
What is an emergency and critical care specialist?
A veterinary specialist in emergency and critical care is a doctor who has received specialized training in treating and caring for patients with life threatening conditions. Specialty status is granted by the American College of Veterinary Emergency and Critical Care (ACVECC). To become a specialist, the veterinarian must first be a graduate of a recognized veterinary school. Then receive a minimum of 3 additional years of advanced training in emergency medicine, surgery, and critical care through completion of an ACVECC approved training program. This training program is termed a "residency" and focuses on the most up to date techniques for diagnosis and management of life threatening disease processes or injuries, not only in an emergency but throughout the recovery period. Once the veterinarian has completed the specialty training, they then must pass a board certification examination administered by ACVECC. Only upon successful completion of the training program and passing of the board certification examination is specialty status granted by ACVECC. The veterinarian can then be referred to as a Diplomate of the American College of Veterinary Emergency and Critical Care, and the initials DACVECC will be displayed after his or her veterinary degree.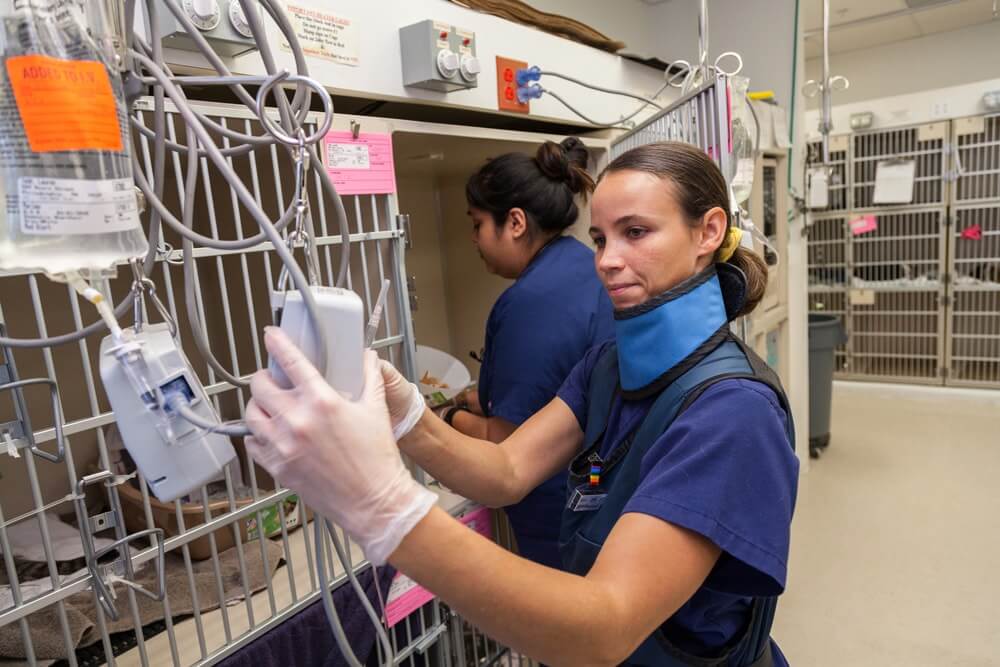 Conditions that may benefit from an emergency and critical care specialist:
Trauma (automobile accidents, falls, bite wounds, knife wounds, etc.)
Respiratory distress
Severe systemic infection
Bleeding disorders
Kidney, heart, or liver failure
Any patient that is in shock
Unstable diabetes or other endocrine disorders
Poison ingestion
Patients with life threatening neurologic disease such as coma or severe seizures
Heatstroke
Envenomations
Patients suffering from drug reactions
Services provided by our critical care service:
Critical care monitoring- continuous ECG (heart monitoring), oxygen saturation, direct and indirect pressure monitoring, coagulation testing, blood gas analysis
Oxygen and respiratory therapy including long term mechanical ventilation
Placement and management of feeding tubes
Multimodal analgesia (pain control) including continuous infusions and epidural
Advanced fluid and electrolyte therapy
Blood component transfusions
Thoracostomy and tracheaostomy tube placement and management
Emergency surgery
Advanced imaging